Tim Love has published over 180 poems and more than 40 stories in magazines (Rialto, Stand, Oxford Poetry, Journal of Microliterature, Short Fiction, etc). Many are online. He's also had several articles published, a poetry pamphlet and a collection of short stories. He lives in Cambridge UK working with computers. An illustrated CV is online.
He offers hour-long workshops on "Slow Reading", "Story character development", "Getting published", "Writing sentences", "Story beginnings and endings" and "Writing book reviews". These are free if travel expenses are paid and books are allowed to be sold.
Books
Moving Parts
(Happenstance, 2010)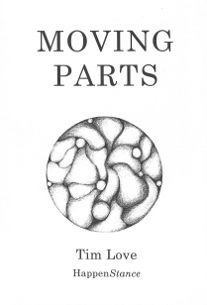 "A fine intelligent collection" (Stella Stocker)
"an intense and rewarding read" (Nick Asbury)
"remarkable for their freight of experience, assured grasp of line and a poetic sensibility as confident as it is unusual" (Alison Brackenbury)
By All Means
(Nine Arches Press, 2012)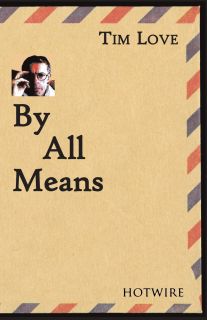 "Tim Love wields words with a precision of a surgeon, or a sculptor. These stories are clever, poignant and memorable - but above all they are hugely generous" (Vanessa Gebbie)
"The technique is complex but well controlled" (Tony Williams)
"Just as there are many kinds of love there are many kinds of sadness; there are at least nine kinds in this book" (Jim Murdoch)
Prizes
1st in the West Sussex poetry competition 1992. 1st in the "short Fiction" (Univ of Plymouth) competition 2006. Placed in competitions run by "Varsity", "Cambridge Writers", "Kent and Sussex Poetry Society", "Staple".
Anthology appearances
"Misreading the Signs" was in "Riding Pillion" (Poetry Business, 1994)
"Flight" was in "Miracle & Clockwork" (Other Poetry, 2005)
"Port Selda" was in "Snap" (Templar, 2010)
Poems in "Mill" (Templar, 2015)
Poems in "Quintet" (Cinnamon, 2015)
See also the background information
Contact details